PARKS FOUNDATION CALGARY CELEBRATES THE OFFICIAL GROUND BREAKING OF
MANMEET SINGH BHULLAR PARK
On Sunday, May 6th, the first of three hundred trees was planted at the site of Manmeet Singh Bhullar Park. Members of the Bhullar family gathered to mark the occasion, signifying the official start of construction at the five acre park to be located in the NE community of Taradale.
"We are excited that the construction of the park is underway, says Sheila Taylor, CEO of Parks Foundation Calgary. "This new park will provide a beautiful and valued gathering space, and will be a vital connection to local city pathways."
The park is being built in memory of inspiring Calgarian Manmeet Singh Bhullar, and construction will take place over the course of the summer with a planned completion date of September 2018. Once completed Manmeet Singh Bhullar Park will include colourful groves of trees that will form the Giving Forest, and five giant steel archways that will merge into one gathering plaza. Visitors will be able to enjoy the beauty of the park while seated at one of the twenty-seat harvest tables.
"Once completed, this park, with its majestic trees, beautiful vibrant colours and multi-purpose gathering spaces, will embody Manmeet's spirit and strength," says Namrita Rattan, wife of the late Manmeet Singh Bhullar.
The project has been supported by Calgary Foundation, the Province of Alberta and City of Calgary, and fundraising is ongoing. Parks Foundation Calgary invites sponsorship of one of the five varieties of trees available at the Giving Forest. The different trees will be interspersed throughout the area, symbolizing the diversity, uniqueness and inclusivity that characterizes Calgary. Sponsors' names will be permanently displayed on plaza signage.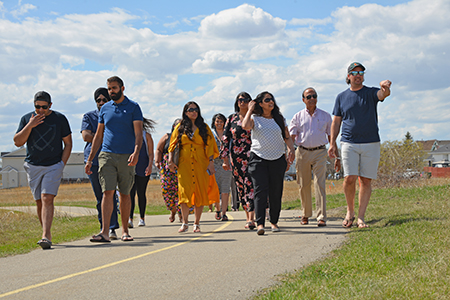 About Manmeet Singh Bhullar
Calgary-born Bhullar was the first turbaned Sikh to hold a cabinet position in the provincial government when he was appointed Service Alberta Minister in 2011. A great supporter of park development, Bhullar was widely admired for his tireless work for communities and vulnerable individuals.